About Us
Last Update: 2019-01-08
We are people who involved in medical equipments and pharmaceutical field for years. According to the trend of industry development, we found that people need an integrated solution of medical equipments and pharmaceutical instead of individual product.

Hannox dedicates developing innovative and competitive service, we share what we have and support our customers to win success in market.
Just like you are one of our family.

We, Hannox, are the world-wide distributor of Aurum Biomedical Technology Inc.and now, we are seeking partners as local distributors, let's expand our market wider together.

Aurum Biomedical Technology Inc. was founded in Taiwan since 2014, with the aim to be a full range biotechnology and medical device manufacturer. Aurum Biomedical Technology owns various patents and trademarks. Based on its fully automation production and unique screen-printing technology, the blood glucose monitoring system were launched to the market with high quality and accuracy, and they are all in compliance to CE, ISO 13485, and ISO 15197: 2013.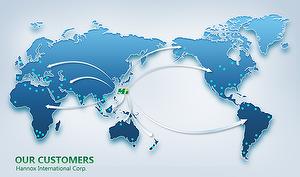 Basic Information
Company Name:

HANNOX INTERNATIONAL CORP.

Business Type:

Distributor, Exporter, Manufacturer, ODM, OEM, Trader

Year Established:

2003

Capital:

TWD 50,000,001 - 100,000,000

No. of Employee:

51 - 100

Brand:

Hannox, Hi ,Smile Art

Main Product:

Medical Device, Dental Equipments (Glucose Meter, Nasal Aspirator, Thermometer, Mosquito Repellent, Blood Pressure Monitor, Dental Unit, Bone Graft,)

Main Export Market:

AFRICA, ASIA, AUSTRALASIA, C-AMERICA, EUROPE, MID-EAST, N-AMERICA, S-AMERICA
Certification
Company Certification:
Taiwan Product Magazines
2019

2018
Contact Information
Owner:




Contact Person:




Phone Number:



Business Phone Number:

+886-2-25022575 EXT 307

Company Fax Number:

+886-2-25068423

Office Address:

Company Website: